Central Nervous System
Central Nervous System(CNS) consists of Brain and Spinal cord.
CNS controls and coordinates various functions of the body.
BRAIN
In an adult, the average weight of the brain is 1.4kg(1400gm).
Protective membrane which envelops the brain and spinal cord – Meninges.
Part of the skull that encloses the brain – Cranium.
i. Cerebrum
The largest part of the human brain.
Cerebral hemisphere is divided into frontal, parietal, temporal and occipital lobes.
Cerebrum controls voluntary actions.
It is the centre for intelligence, thoughts, emotion, willpower, memory, consciousness, imagination, experience, recognition, reasoning, weeping, laughing, voluntary controls etc.
The part of cerebrum which is known as sensory speech area(motor speech area) – Broca's area.
ii.Cerebellum
Also known as Little Brain.
Centre for co-ordination of muscular movement.
Primary centre for balancing, equilibrium and orientation of body.
It is the part of the body on which Alcohol affects.
NB: The part of brain on which painkillers work - Thalamus
iii.Medulla Oblongata
Controls involuntary actions like working of heart, contraction of blood vessels, respiratory and digestive movements.
Central control of respiratory activity.
Centre for vomiting, coughing and sneezing.
An injury to medulla oblongata may cause sudden death.
iv. Hypothalamus
Centre for hunger, thirst, sweating, sleep, temperature, love and hate.
The thermo regulatory centre of the human body.
Hormones produced by Hypothalamus – Oxytocin & Vasopressin.
SPINAL CORD
Controls reflex actions in humans.
Spinal cord is the part of brain passing through the vertebrae or spine.
Spinal cord has a length of 45cm.
There are 12 pairs of cranial nerves and 31 pairs of spinal nerves.
Neurons
Neurons carry message intheform of electric signals.
The basic functionalunit of the nervous system is the neurons .
Neurons are connectedtoeach other to form networks.
Parts of neuron are – Axon, Dendron and Synaptic nobe.
Sensory neurons respond to stimuli like touch, sound, light etc. and send signals to spinal cord and brain.
Motor neurons receive signals from brain and spinal cord.
Part of the neuron which carries in impulses is called the Axon.
Axon passes an impulse into another neuron through a junction called synapse.
Part of neuron which receives nerve impulse – Dendrites.
Normally signals are sent from the axon of one neuron to a dendrite of another.
Chemical which helps in transmission of nerve – Acetyl Colin.
Protective sheath of Axons – Myelin Sheath.
Colour of Myelin Sheath – White.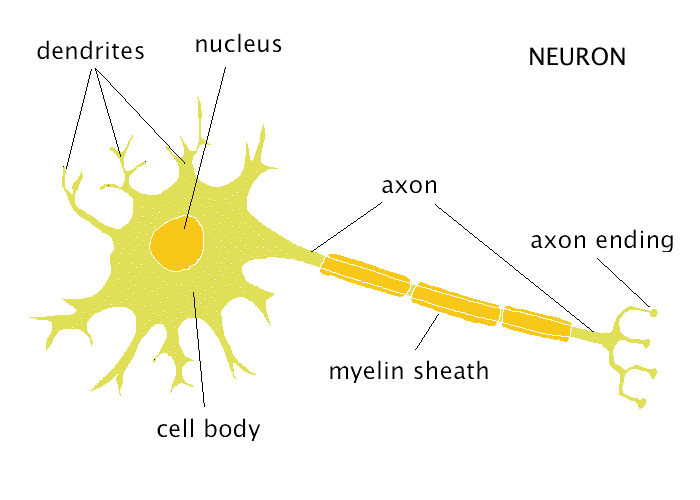 The disease occurs due to the loss of neuron in the brain – Alzheimer's disease.
The loss of motor neuron in the body causes – Parkinson's disease.
Meningitis is affected to Meninges. It is caused by Bacteria, Virus, Fungus and Parasites. Bacterial Meningitis is more severe than viral meningitis.
Encephalitis is an infectious brain disease caused by virus.
A disability of brain to recognize letters and words properly – Dyslexia.
Clotting of blood in the blood vessels of brain – Cerebral Thrombosis.
Bleeding caused by the breakage of blood vessels of brain – Cerebral haemorrhage.
When the flow of blood to the brain is obstructed for more than 5 sec. , it results inunconsciousness.