The Indian Islands
There are two main group of islands in the Indian Ocean. They are :
1. Andaman and Nicobar islands in the Bay of Bengal.
2. Lakshadweep islands in the Arabian sea.
1. Islands of the Bay of Bengal
The main islands of the Bay of Bengal are the Andaman & Nicobar groups.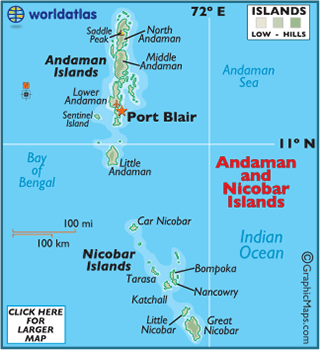 The Andaman & Nicobar islands are seperated by the Ten Degree Channel.
Indira Point/Pigmalian Point in the Nicobar islands is the southernmost point of the Indian Union.
Great Nicobar Island is the biggest Island in Nicobar group.
Pilomillow is the smallest island of Nicobar.
Ross island is the smallest island of Andaman.
Barren and Narcondam are the two volcanic islands. They only active volcano in India is Barren.
The Duncan Passage seperates the Little Andaman from the South Andaman.
The highest point in Andaman & Nicobar Island is the Saddle Peak(North Andaman).
The archipelago that lies east of Great Andaman - Ritchie's Archipelago.
Country lies nearest to Andaman island - Myanmar.
Coco Island - North of Andaman belongs toMyanmar.
2. The Arabian Sea Islands
In the Arabian sea, there are 36 tiny islands of coral origin located about 350km off theKerala coast are known as Lakshasweep islands. But only 11 of them are inhabited.
The entire group of island is broadly divided by the Eleventh degree channel.
The north of the eleventh degree channel is Amini Island and south is the Canannora island.
The southern most island, Minicoy, is seperated from the rest of the group by Nine degree channel.
Lakshadweep islands are seperated from the Maldives islands by the Eight degree channel.
Androth is the largest island in Lakshadweep.
Other Offshore Islands
Majuli in Brahmaputhra is the largest riverine island of India.
Elephanta Islands are the part of Maharashtra.They were konwn as Gharapuri in ancient days.
Satheesh Dawan Space Centre is at Sriharikotta(Andhra Pradesh). The Pulicat lake seperate the Sriharikotta from the Bay of Bengal.
The New Moore Island is a disputed island between India and Bangladesh. In Bangladesh theNew Moore island is known as South Talpatti.
The famous Honeymoon and Breakfast Islands are in Chilka Lake.The Parikud Island is located at the mouth of Chilka lake.
The Aliabet Island is at Narmada-Tapi mouth.
The fishing island with continues beach structure in Arabian sea - Diu.
A group of seven islands which forms the present Mumbai - Salsette.
The navel station island in Kerala - Wellington island.
Wheeler island of the Odisha coast is a place for Indian missile testing.
The island famous for the distinctive geological formation of columnar basaltic lava - St.Mary's Island.
An estuary in western India opening into Mumbai harbour - Thane Creek.
An island in the Mumbai harbour which is fortified and owned by the Indian Navy - Oyster Rock.
A famous river Island that lies near the Chennai city - Quibble island.
The island which is used as an oil terminal by Mumbai port - Butcher Island